---
By Marc Graser
In Partnership with Poliform
Whether you live in New York City or Miami, Los Angeles or Chicago, Poliform is a master at helping create relaxing and convivial urban spaces that are functional and fully designed around the person who prefers to live a contemporary lifestyle.
For the leading Italian cabinetry and interior design firm, located near Lake Como, timeless elegance are words that define Poliform's overall design philosophy. Its elegant furniture collections and accessories embrace minimalist lines, harmonious colors, sophisticated materials and precious details.
Synonymous with high quality and excellence, Poliform is a "Made in Italy" company that has shaped contemporary living for more than 50 years with refined elegance that is sophisticated but never ostentatious luxury.
According to the firm, Poliform creates settings that flow from one into the other — living room, dining room, kitchen, walk-in closet, bedroom — linked by a common aesthetic look of essential lines and measured proportions, in balanced shades and discreet shapes. They tend to be complete projects in which there are no improvised or random combinations and pairings and every detail contributes to creating a unique and extraordinary whole.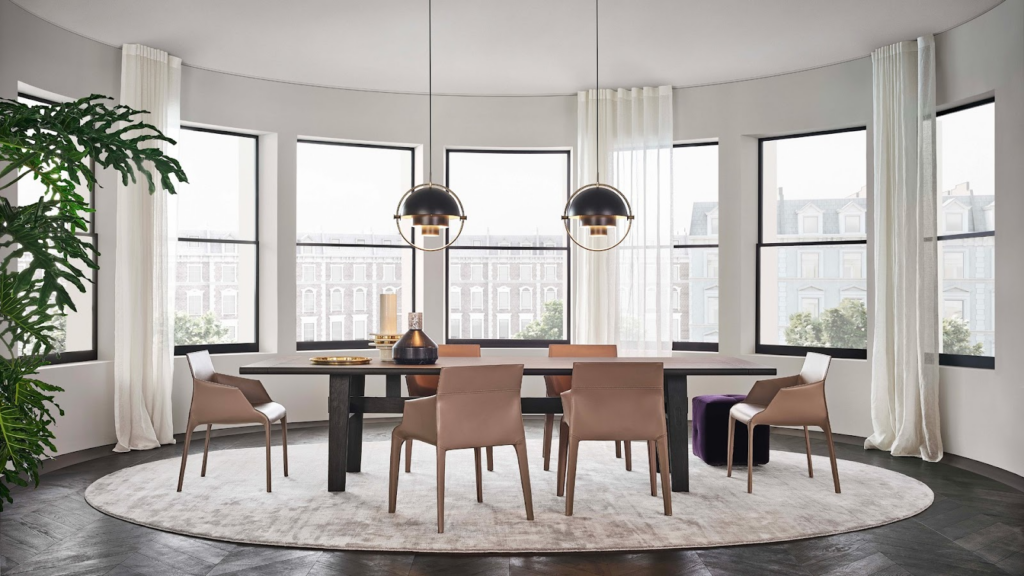 Life in the City
Skyscrapers are icons of contemporaneity for Poliform, and the firm's designers feel interiors should respond to the towering skyline on display, giving a voice to a new sort of classicism, where spaces are interconnected through flexible systems and neutral tones.
Modernist references are featured in open spaces dominated by light and elegance in the classic sense, beyond time and space, with neutral palettes illuminated by splashes of color, pale shades with dark hues, an essential aesthetic that replenishes minimalism with new meanings.
In the living room, furnishings should favor modern forms and materials, and reflect the setting and exterior landscape.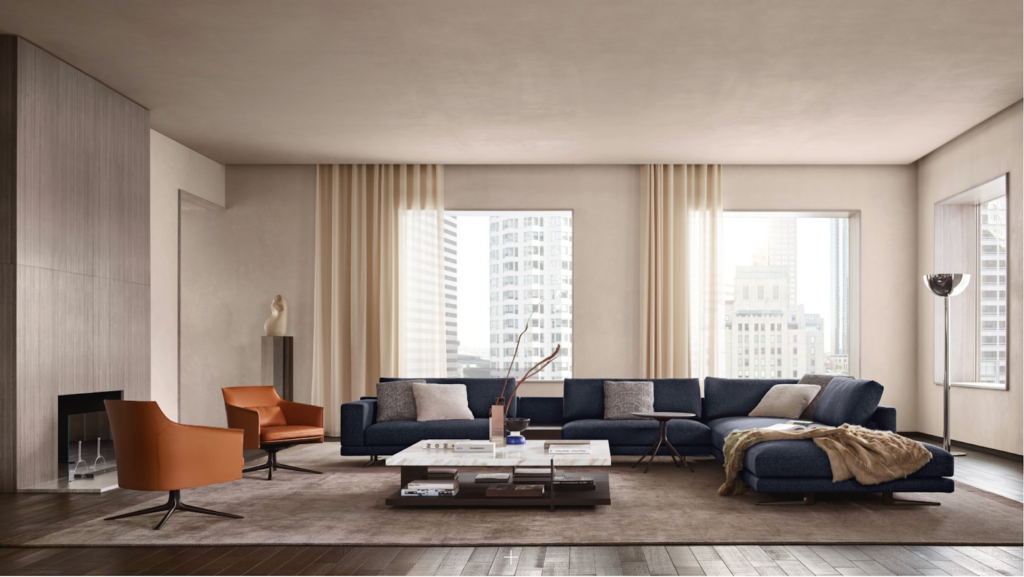 Spaces dominated by light, natural materials and soft lines should give form to contemporary comfort.
A palette of grays on walls and upholstery might be illuminated by brass accessories and warmed by the sophisticated blue velvet of armchairs.
Poliform's Mondrian sofas, for example, might have their strong architectural components suspended on slender feet, blending horizontally with lightness, while Stanford armchairs stand tall on metal bases combined with fabrics or leathers that adorn the small armchair like haute couture garments.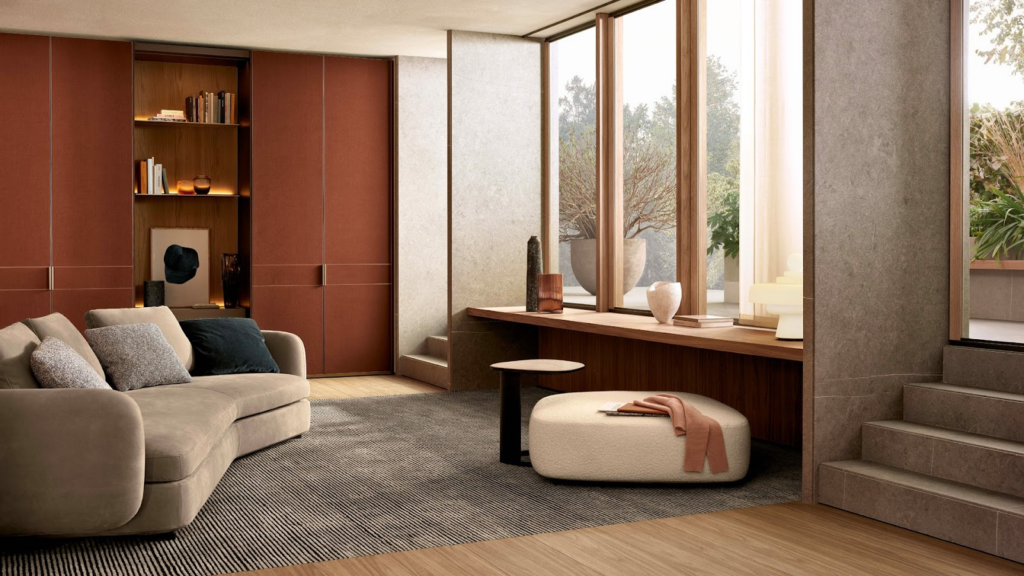 Another option that can soften the sharp right angles of a room's architecture might be the curved lines of sofas, armchairs and accessories. Fabric and leather upholstery, textile accessories such as rugs and natural finishes can add a new tactile dimension to the overall aesthetic.
Designed by internationally renowned French architect Jean-Marie Massaud, Poliform's Saint-Germain collection transforms any space into a warm and familiar landscape, giving a pleasant sensation of domestic comfort.
Evoking classic designs of the 1970s, Poliform's system of Saint-Germain sofas and upholstery elements feature sinuous and sensual shapes. An enveloping and round style recurs in all the modules of the series, which features linear sofas, L-shaped configurations, or organic compositions. The covering, in fabric or leather, enhances the volumes, full and voluptuous.
Providing elevated touches that complete the room, Koishi coffee tables complement the collection. Named for the Japanese word for pebble, the coffee tables are inspired by soft lines and organic shapes and highlight the organic naturalness of materials used. The metal structure is sculptural but minimal; oak or elm wood, reflective glass, ebony stone and marble are the materials available for the top.
Natural materials can also be used to warm up social spaces, which might feature tabletops with sculptural bases crafted from marble, and chairs completely upholstered in leather. A glossy-finish red sideboard can provide an accent that is full of character.
Consider material contrasts and clean lines for the dining area. Focus on details such as the workmanship of the table top and the broguering stitching of chairs, upholstered in leather.
These living spaces pair nicely with kitchens that are also contemporary and minimal. Neutral shades and polished finishes interact with the skyline that is visible through large windows.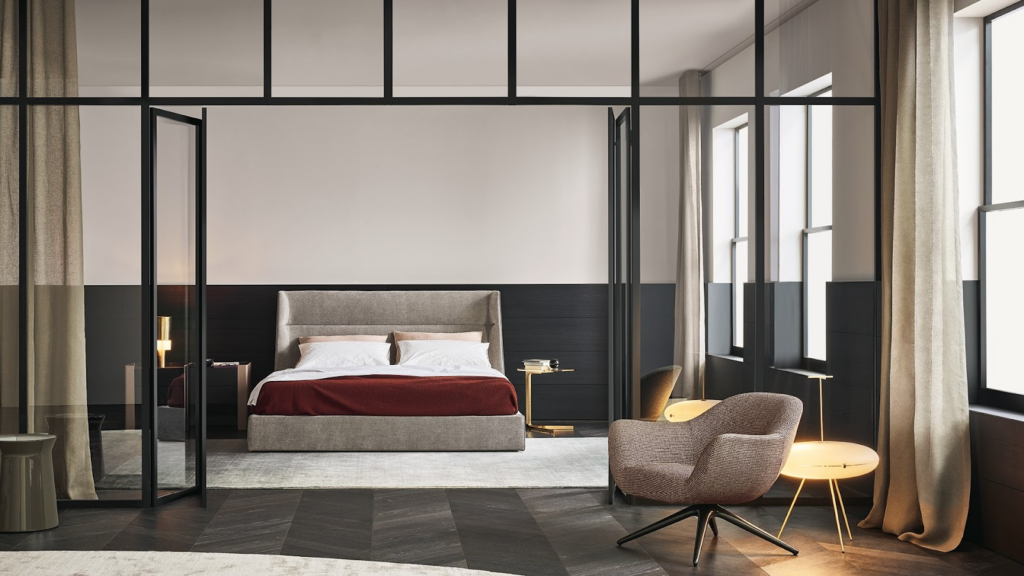 Calming Retreat
For its bedrooms, Poliform takes inspiration from hotel suites — alcoves characterized by calm tones. A bed with padded headboard and armchairs, for example, can help create corners of relaxation and peace.
Poliform's Chloe bed features a distinctive wrap-around headboard, which creates two small wings — a shape that can also be seen in the accompanying chest of drawers and bedside tables of the same series, creating coordinated styling throughout the night area. Elegance embodies the textile finishes and the storage elements with sides covered in leather.
No matter the space, Massaud, who also designed Poliform's best selling Bellport, Mondrian, Bristol and Westside sofa collections, believes Poliform reflects a more personal and emotional representation of its products, saying, "our homes are a natural environment to live and fully imagine ourselves, so even with Poliform, through a wide variety of products, we're heading towards less formal and more spontaneous spaces, incorporating free social practices, like the possibility to sit on the ground. I don't think the appearance is so important, but rather what we can experience and with what emotions."
Discover more exceptional Italian design inspirations at poliform.com.