Text by Ann Abel
Images by Rodrigo Cardoso
---
Truth be told, Quarteira rarely makes a list of best places in the Algarve. Until recently, the city wasn't even on my own list, even though I've been spending a good bit of time there for the past three years.
It probably didn't help that colleagues in Lisbon, my adopted hometown, continually asked why I—a longtime luxury travel writer whose taste runs more toward small, soulful hotels—keep going there. But I have the best answer to this question: love.
A few years ago, I met someone who lives in Quarteira, and my relationship with him meant a relationship with the city.
My Lisbon friends were not wrong. The city is not beautiful. There's very little green space, and there are a lot of high-rise condos. There's no place where dressing up for dinner makes sense.
Quarteira, a fishing village-turned-middle-class city of about 22,000, prides itself on its lack of pretension. There are other places to go if you want to show off your latest fashion. In Quarteira, you can come as you are.
Quarteira lies smack in the center of the Golden Triangle, the three resort communities that make up the most expensive real estate in all of Portugal: Quinta do Lago, Vale do Lobo, and Vilamoura.
The last, Vilamoura, is technically part of Quarteira. But while bureaucratically they may be in the same jurisdiction, psychologically, they're worlds apart. The resorts are manicured. (While there, I sometimes forget I'm in Portugal.)
Quarteira is a working town. Many residents work in the resorts, while others go out on the fishing boats that depart from the commercial harbor. The fish they bring back is outstanding.
People from the resorts come to Quarteira for a genuine experience.
The travel goes both ways. People from the resorts come to Quarteira for a genuine experience—to eat the real-deal piripiri chicken, to get their hands dirty feasting on seafood at a traditional marisqueira, to buy just-caught sea bass or red mullet at the city's fabulous fish market, to people-watch and mingle on the city's long beachfront promenade, called the Calçadão ("big street" in Portuguese).
Still, I was ambivalent about Quarteira. It took a pandemic to change my mind. On that weird day in March, when the Portuguese government joined others around the world in announcing a "State of Alert," I called my boyfriend and said, "I don't know what's coming, but I want it to be with you."
I caught the next train. What came next was two solid months (the longest I have ever stayed in one place as an adult) locked down in a city that I started calling "Quarenteira."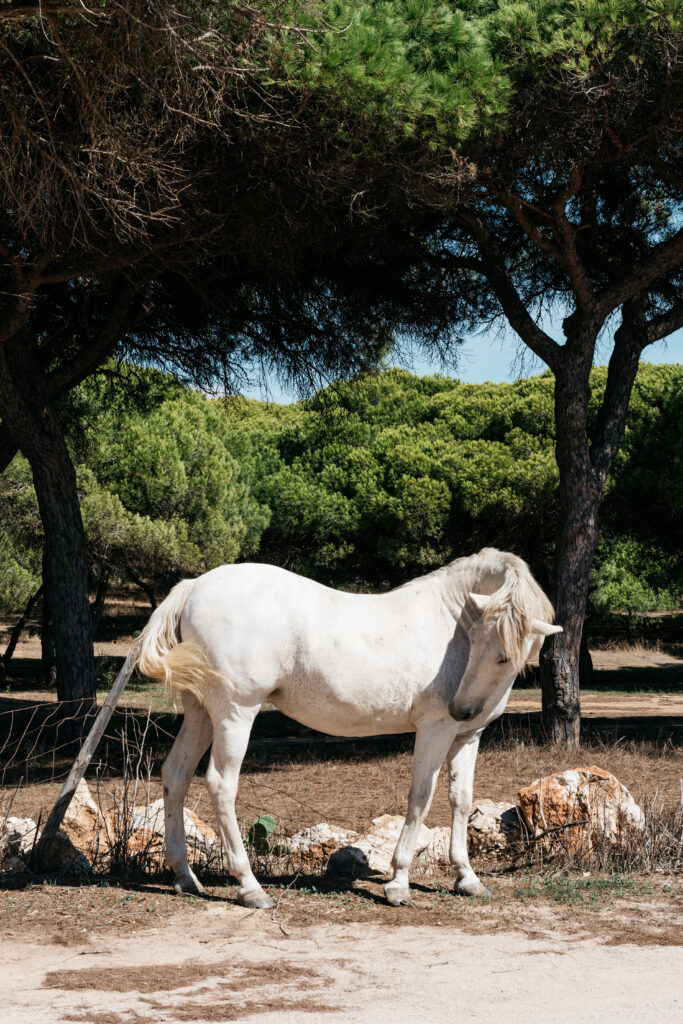 We took long walks every day. Sometimes we walked along the Calçadão, where a single long, golden beach stretches the length of the city. (Sections have different names, but they're continuous.)
Other days, we walked to the end of a city road and onto a dirt path leading up to the forest on top of the cliffs above the Praia do Forte Novo beach, where the cleared areas of that forest were blissfully empty of camper vans, and I was able to see the beauty of the beach below. As spring moved forward, there were wildflowers everywhere.
A pass over that first cliff led to two choices. Sometimes we crossed the beach to a second set of cliffs and repeated the climb up a small hill to walk in the forest atop beach cliffs.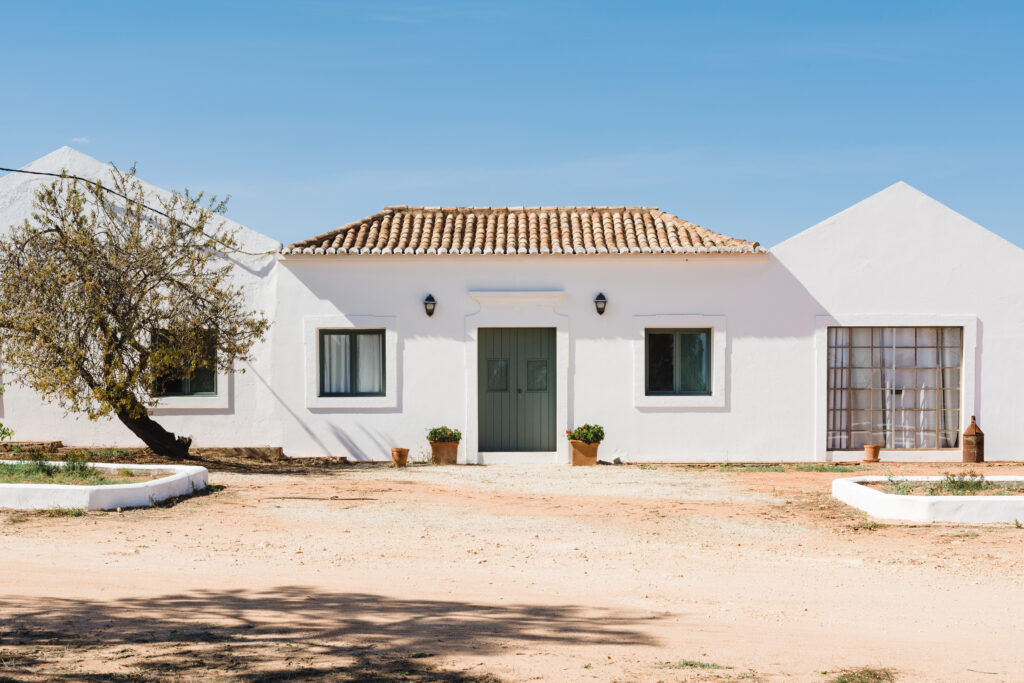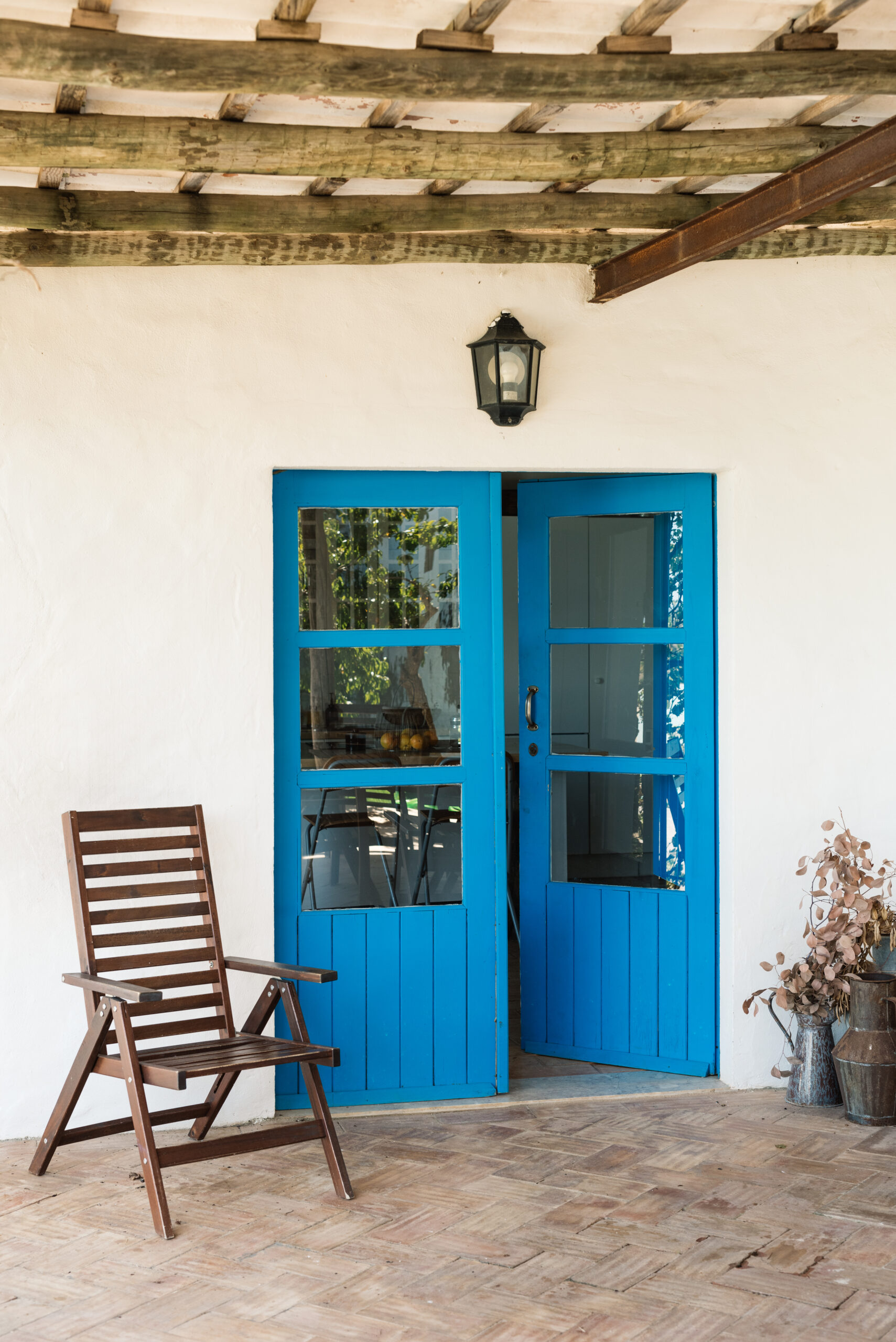 Other times, we headed inland, past the Foz do Almargem lagoon, high with water in the spring, a nesting ground for herons, waders, ducks, and seagulls.
Continuing past the lagoon, we came into farmland (the small-scale, family-garden type), where homes had orange trees heavy with fruit, flocks of squawking chickens, and one particularly lovely herd of goats. I had always thought of Quarteira as concrete and high-rises; it was a surprise that bucolic nature was so close by.
As the days got longer, the rain became more rare, and I grew fond of Quarteira. I collected fistfuls of wild daisies on my walks—they grow like weeds—and put them around the apartment in empty pasta sauce jars.
I collected lemons from my boyfriend's parents' tree, squeezed lemonade for lunch, and took thermoses full of lemon-peel tea to an empty spot above the beach to watch the sunset.
Lisbon is showy, classically beautiful from every angle.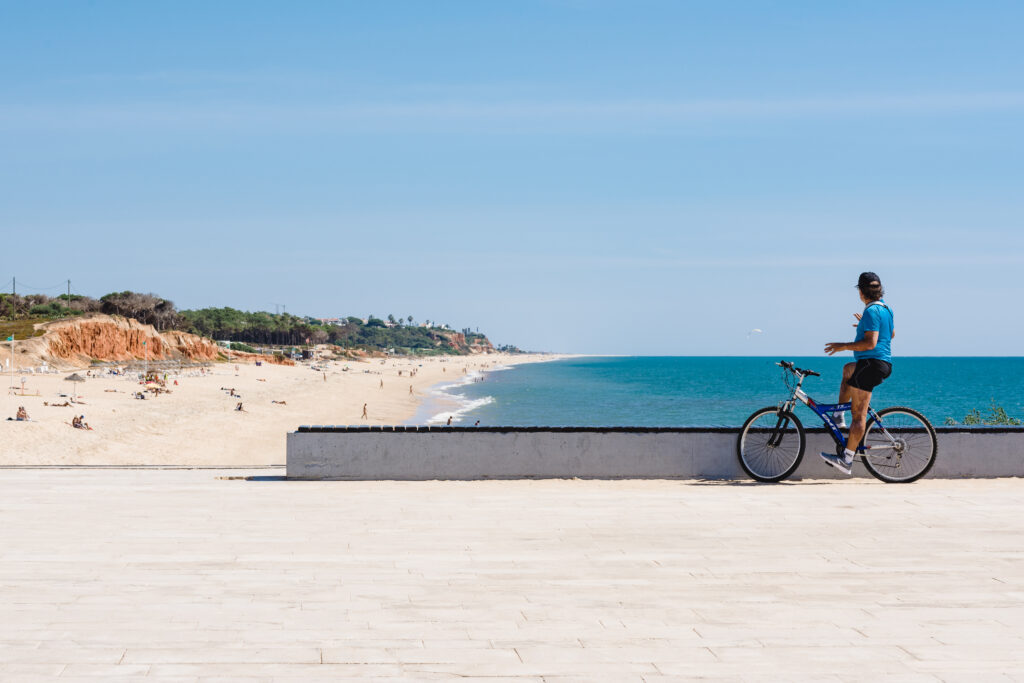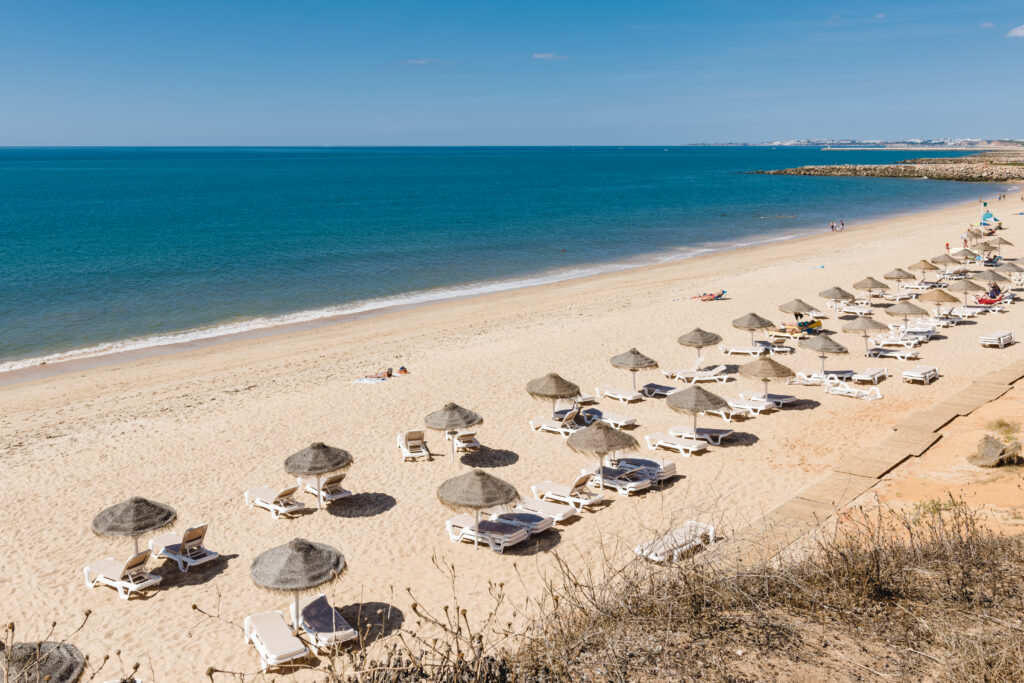 Six months after my first Quaranteira stint, when all of Portugal was (diminishingly) open but subdued, I went back to Quarteira as autumn turned to winter and Portugal moved toward its second lockdown. And I watched the same seasonal changes in reverse.
One afternoon around the winter equinox, walking home from having a drink at a beach bar in the transition zone between gritty Quarteira and pretty Vilamoura, I took the photo that will forever sum up my pandemic Christmas: In it, people are waiting, socially distanced, in front of a churro stand on the Calçadão, the sky on fire with the early sunset in the background. It was beautiful and lonely, and exactly the place I wanted to be.
Belatedly, I started exploring the old parts of the city, away from the water, where a dense thicket of streets wrap around one another, and small old houses are lined up side by side. I found a few buildings to like, but I was initially underwhelmed.
Once, during a disagreement with my boyfriend, I told him that I just wanted to see something beautiful made by humans. He said he didn't know how he could help, because that's too subjective—who's to say what's beautiful? I thought it was his way of not admitting that there was nothing lovely to see. Looking back on it now, I understand that he was right. Lisbon is showy, classically beautiful from every angle.
In Quarteira, you have to pay attention. The new condo buildings seem generic, but then I found one that has fantastically geometric, crisscrossing exterior staircases, and another one with round windows and blue railings, with a palm tree in front, that would make sense in Miami Beach.
In the old city, the boxy little houses were often undistinguished—except for those covered in colorful azulejos, Portugal's famous tiles, in an exuberant display of pattern-on-pattern design. On top of the church of Our Lady of Conception, in the oldest part of town, the storks' nests are magnificent.
While it took some time for me to see the beautiful things made by humans in Quarteira, it was a lot easier to fall in love with the delicious food made by humans.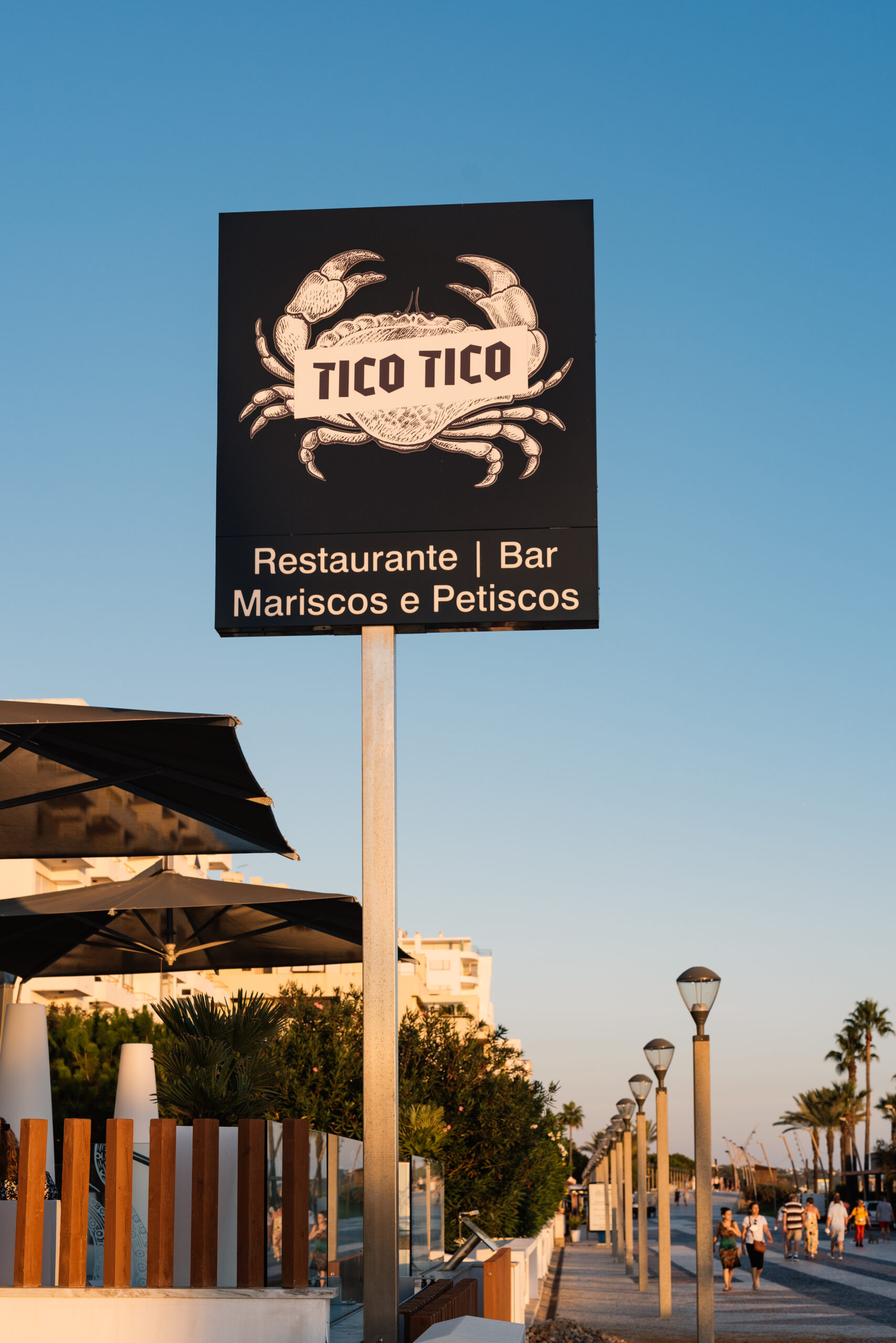 Along with the long walks, my other ritual was going for lunch at the vegan restaurant Raízes, sitting outside during the open times, or taking Tupperware during the lockdowns. It has an ever-changing menu of daily dishes, some based on Portuguese classics like tofu à Brás, and stewed fava beans with faux sausage.
Another long walk led me to Social, a wine bar and restaurant on the far side of town with small plates and a fun Sunday brunch with live music. It and Coral, another wine bar, became the places we would go when we were in the mood for tapas and wine.
At a time when it was still tricky to travel between districts, they reconnected me with Algarve wines whose makers I had visited in the before times, such as the lovely red blends from Convento do Paraíso and Cabrita Wines, both about an hour away in Silves. They also introduced me to new ones.
Not long ago, I ventured out to try one of those at the source, the palhete (similar to a rosé) from Morgado do Quintão, which is about an hour away near Lagoa, where tastings are held beneath a 2,000-year-old olive tree.
We celebrated my pandemic birthday in December with a quiet lunch on the sidewalk in front of A Caravela, a longtime spot known for the high-quality fresh fish that you would expect, given its location across from the fish market.
And we celebrated the return to near-normalcy this past summer with a feast of octopus salad, conquilhas (tiny clams) with bulhão pato sauce (lemon, coriander, and tons of garlic), and razor clam rice at Tico-Tico, a longtime favorite of locals, which used its time off to move from its tiny location in the old town to a prime beachfront spot.
In Quarteira, the main evening activity is promenading along the Calçadão. Some restaurants along the way have live music and a smattering of dancing.
Last summer, a string of Brazilian bars sprung up, complete with DJs and live performers—which brings me to another selling point for Quarteira. It's been multicultural for decades, a mix of Portuguese, Brazilians, Africans, English, Eastern Europeans. Everyone feels welcome.
I'm not planning on trading in my big-city life in Lisbon. And sure, I love the postcard-perfect little fishing Algarve villages where my Lisboeta friends—those same ones who were mystified by my affinity for Quarteira—like to go for holidays.
But the last time I was in Quarteira, it was a hot summer night and the Calçadão was full of people, walking, dancing, eating ice cream, and sipping caipirinhas as midnight came and went. Kids zoomed past on bicycles.
It was the opposite of the quiet nature that I'd fallen in love with months earlier, a mixture of loud beats and languages. Quarteira, I thought, will never be boring.